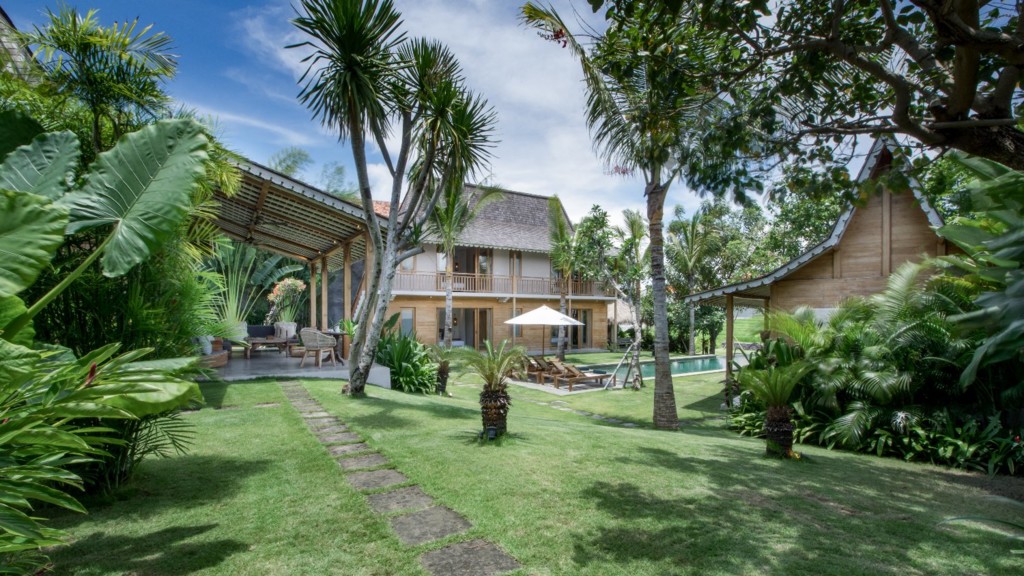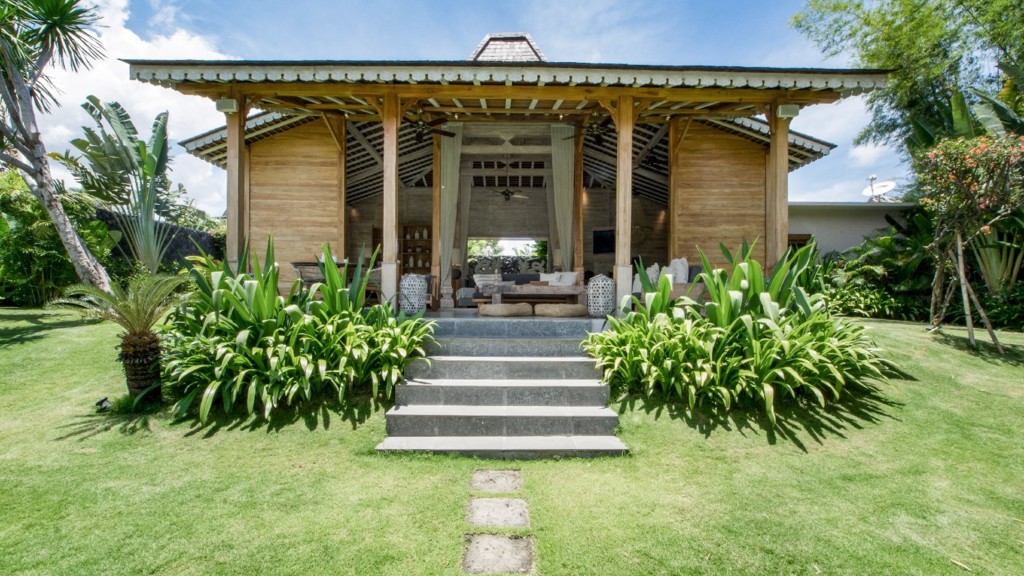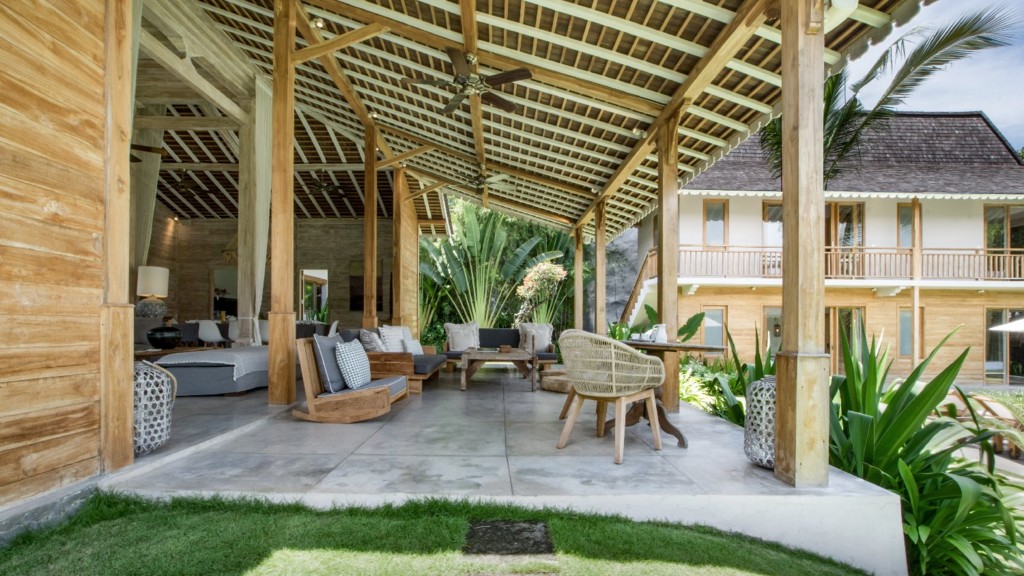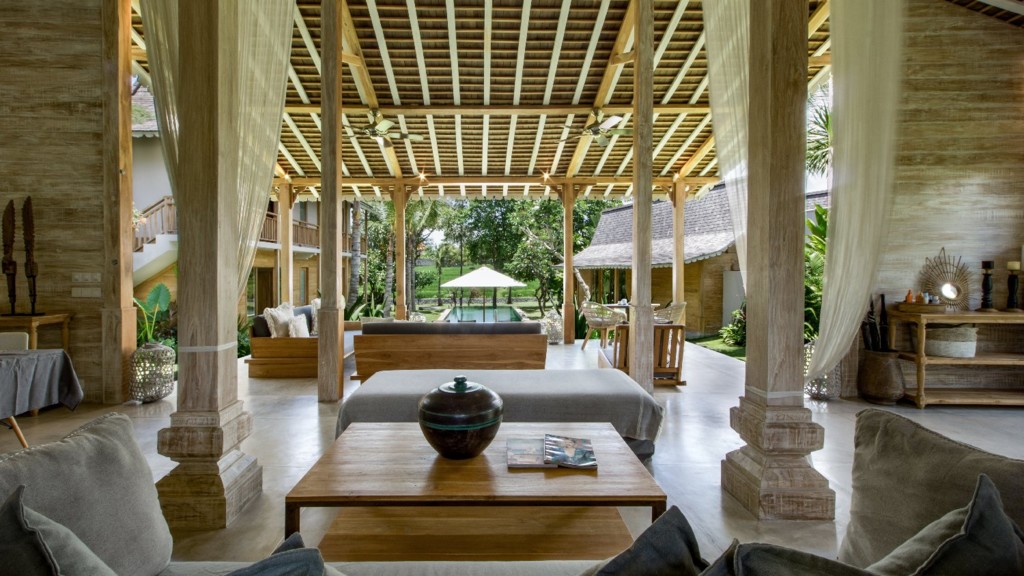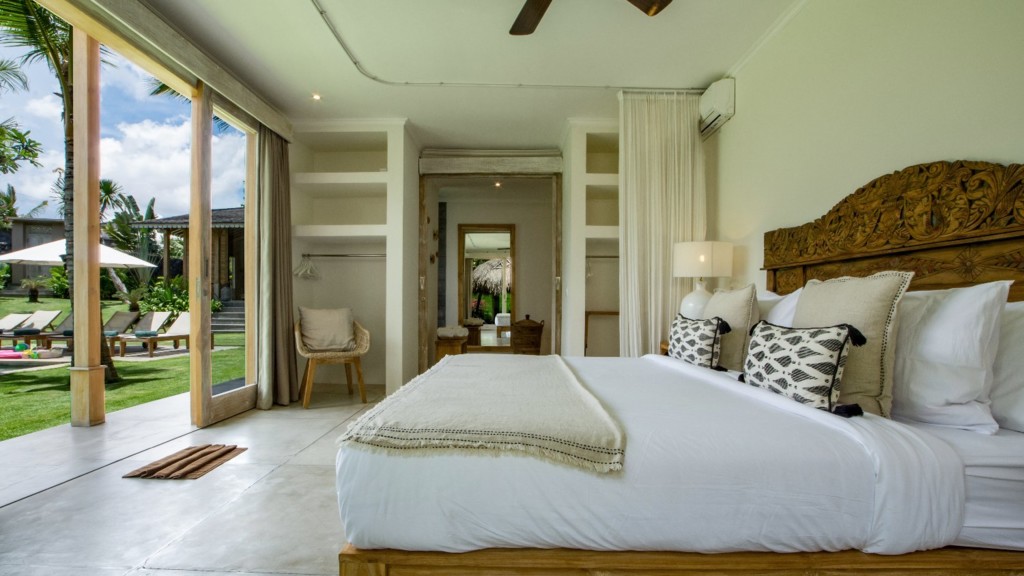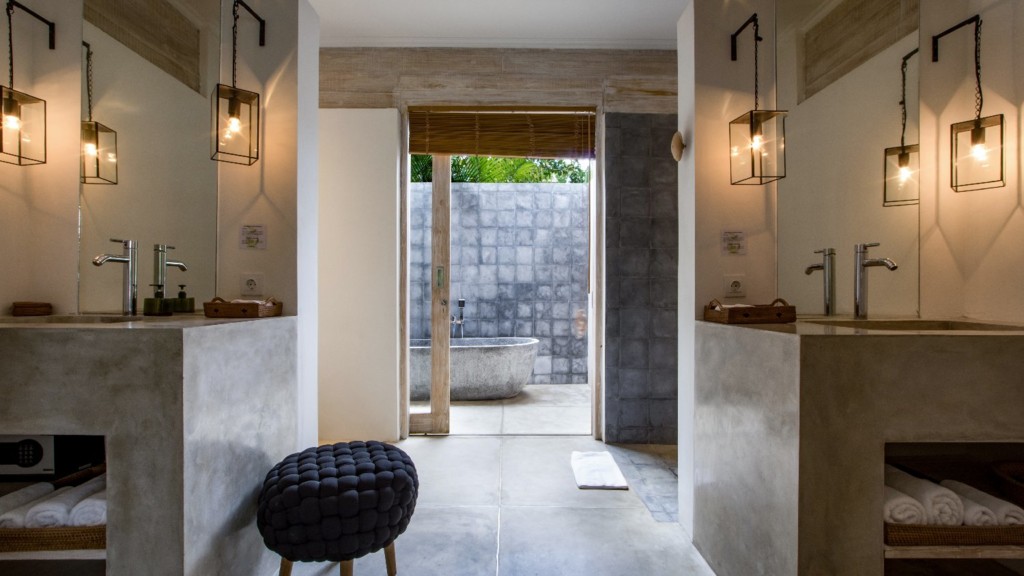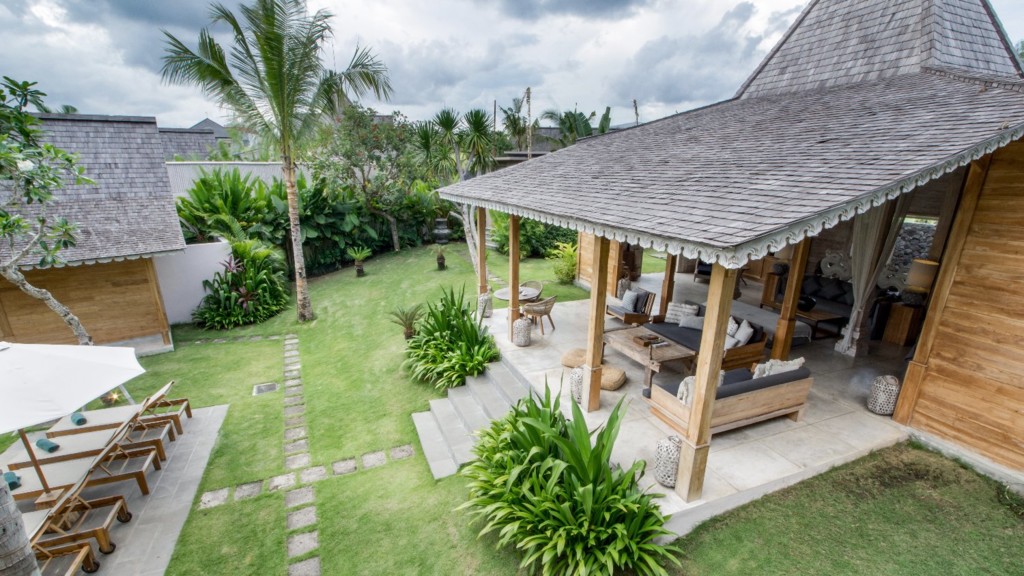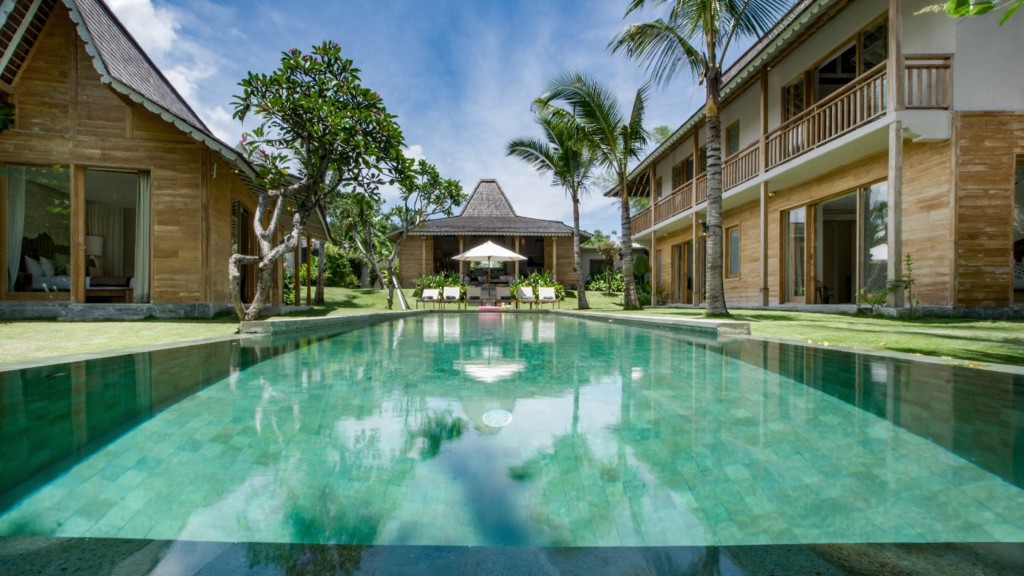 About Villa Alea
Villa Alea is a
brand new contemporary Balinese-style villa
mixing traditional Javanese Joglo architecture and chic interior design facing the green rice paddies of Kerobokan –
ideal for a family or a group of friends
. It's the perfect choice if you're looking to be away from the central hustle and bustle. And if you're up for some action, the center of Seminyak, with its famous shops, restaurants and beaches, is just a short drive away.
Master Bedroom
The
large fanned and air-conditioned master bedroom
is located in a stand-alone pavilion and boasts both pool and rice field views. Picture elegant ivory, black and specks of red for the bed runner and cushions covering a king-sized bed with white linens wrapped in a towering canopy mosquito net. The en-suite bathroom boasts double-sinks, rain-shower, a huge outdoor stone bathtub and wardrobe space with complimentary bathrobes and a safety deposit box.
Guest Bedrooms
The four other bedrooms are in a double storey pavilion with two rooms on the first floor and two rooms on the second floor that can be accessed via an outdoor stairway. Each room is individually
decorated with a unique mix of Asian-influenced antique and contemporary furniture
. All of the bedrooms have king size beds with intricately carved wooden headboards, white mosquito netting, pristine white linens covered with cushions, AC, fan, flat screen TV, DVD player and safety deposit boxes. In the en-suite bathroom, you will find a single sink, WC and shower alcove styled in grey-blue tiles. Both rooms on the first floor have views of the 15 meter swimming pool.
Living Area
The lofty open air living area, boasts an impressive wooden prayer beads chandelier hanging high above a single slab wooden dining table with Eames chairs where up to ten people can enjoy having their meals together. You'll have different lounging options at Villa Alea. Choose between sinking into the over-sized grey sofa piled with soft cushions at the center of the pavilion or chill-out with a cocktail in one of the comfy daybeds located in the front, while gazing at the sparkling pool and watching the sunset over the green rice paddies. If you've got some R&R to catch-up on, then ease yourself into the cozy chaise lounge, switch on the floating white arc lamp hanging above and grab your favorite book.
The closed kitchen next to the dining area is fully equipped with everything you need including a double sink, cooking stove and a large refrigerator.
Outdoor & Pool Area
Running the length of the villa's garden is a beautiful
15 meter swimming-pool
, flanked by a row of four sun chairs at the top of the pool and another two located behind the master room pavilion. Facing these two sunbeds is a traditional balé for reading or a shaded siesta in between refreshing dips in the pool.
Click here to see all 44 villa pictures
WE had and amazing stay at the villa. Warm and caring staffs, we had an amazing cook (Komang) she does all the wonderful dishes and we are well pampered. Slightly off the main road but is convenient to call for assisted by the villa staff. To top it off, everything is within reach and convenient because of the villa staffs. They make our stay chill and relax, we had the most serenity and wonderful vacation. We will definitely be returning to this awesome villa.
Lovely house , great staff, wonderful ricefield view !
We had a wonderful time in Villa Alea. The villa is gorgeous with its typical Indonesian architecture. It's all beautifully decorated, and the comfortable rooms are absolutely charming. The view over the rice field is quite unique, and, coming from dry Dubai, it was a real pleasure to spend time in the beautiful garden and pool and enjoy the Balinese feeling of the villa. The staff was always very discreet and helpful, and the food that we ordered was delicious. We were also very pleased with the location of the villa, minutes away from the beach and shops of Seminyak, and yet very peaceful. Choosing this villa really made our whole trip to Bali quite exquisite.
Beautiful villa with a lot of thought put into the fine (design) touches. The rooms are big, and allow for a lot of light in. The bathrooms likewise. The rooms are on 2 stories, and you have to climb stairs to reach the 2nd floor. For those with young children, the owners have made the villa child-friendly by installing security gates. Very spacious living and dining space ... but the highlight was the lounge area looking out into the pool and rice fields beyond. Perfect relaxation. Big pool and lots of garden space for the little ones to run around and explore. The surrounding rice fields lent a touch of relaxation and quietness ... Easy to get into the Seminyak, Oberoi, Kuta areas without being in the hustle and bustle of it. Very friendly staff. Perfect for groups of families! Or large families!!
Villa Alea is an oasis of calm and relaxation. protected by high walls and a beautifully landscaped garden you can enjoy total privacy. Built in Bali style resort has generous bedrooms with attractive poster bed. Particularly impressively is the Living and lounge area, tastefully decorated, with cozy sitting areas and a wonderful view of the pool and the distant rice fields. The staff was always helpful and always at your disposal. The obvious place Seminyak offers plenty of restaurants, entertainment and for shopping Too like we would in the coming winter our stay repeat. with adjoining bathroom are very spacious
Spent a week in this villa with a group of friends. I highly recommend.Unlike a trillion villas where i stayed in bali, it is not a walled up villa: it opens up to a ricefield which is a very nice plus indeed. Pool is good, service excellent, rooms are comfie. Location-wise, it is quiet and yet very close to seminyak and the beaches. Thumbs up!
일주일 지내는 기간동안 아이들이 눈치 안보고 떠들고 놀수 있었고, 정말 프라이빗하게 지냈었던 곳. 늦게 일어나도 조식을 원하는 시간에 먹을수 있으며, 도우미들이 상시 대기하고 있어 원하는 것을 즉각 해결할 수 있었음. 스미냑과 가까운 거리에 위치하여 교통에 불편함이 없었고 주변에 소품/가구샵들이 많아 다양한 구경거리를 즐겼음. 라이스필드를 배경으로 방갈로에서 받은 마사지는 최고!!
Very nice experience, exotic, quiet with view to the fields of rice. Clean rooms with local ornaments, Excellent meals with good taste and look as well. The staff of the villa are very nice, friendly and professional. Many thanks to them! Their service makes our stay here an extremely pleasant experience. We look forward coming back with more friends and recommending the villa to other friends.
Here are our availabilities for the next few months:
Minimum stay
4 Rooms
5 Rooms
from 25/04/2017 to 01/07/2017
Low season
3 nights

USD $

360

USD $

410

from 01/07/2017 to 01/09/2017
High season
5 nights

USD $

520

USD $

520

from 01/09/2017 to 20/12/2017
Low season
3 nights

USD $

360

USD $

410

from 20/12/2017 to 11/01/2018
Peak season
7 nights

USD $

595

USD $

595

from 11/01/2018 to 15/02/2018
Low season
3 nights

USD $

380

USD $

430

from 15/02/2018 to 22/02/2018
High season
5 nights

USD $

520

USD $

520

from 22/02/2018 to 27/03/2018
Low season
3 nights

USD $

380

USD $

430

from 27/03/2018 to 04/04/2018
High season
5 nights

USD $

520

USD $

520

from 04/04/2018 to 01/06/2018
Low season
3 nights

USD $

380

USD $

430